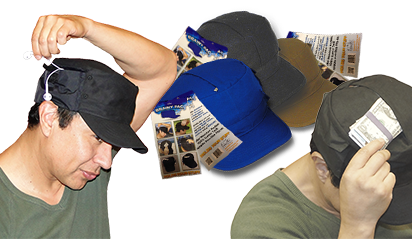 The stylish and useful accessory for anyone! The Brainy Pac Cap includes a waterproof pouch; the pockets on either side are made of a dense material so that nobody can see what's inside. The pockets are designed to be secured shut via heavy-duty Velcro. One-size-fits-all cap design. 100% cotton twill.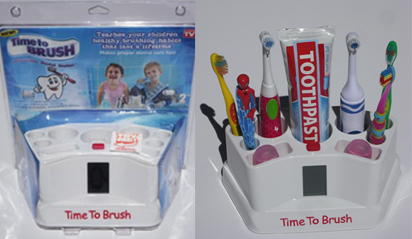 Help your children learn to brush their teeth! Your child will relate to Bobby Brush as he shows your child a fun way to ongoing dental health. Educates children on how to brush correctly with a fun 2 minute animated audio/video that walks children through where and how long to brush each section of the mouth!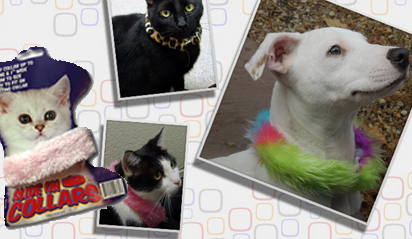 Stylish slide-on collar for Dogs and Cats! This incredible collar accessory fits perfectly around an existing collar for dogs or cats! Complete with multiple colors, the Slide On Collar will boost your pet accessory sales with pizzazz!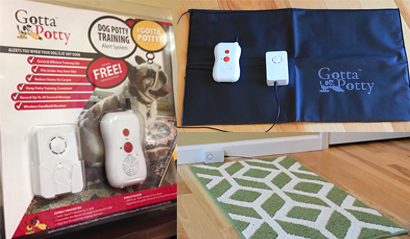 Get on board FIRST! This product is NEW AND HOT! The Gotta-Potty Mat consists of a pressure-sensored mat with a digital voice recorder. When the dog steps onto the mat, the owner's personalized voice message plays, letting the owner know that the dog needs to go outside. The message plays loud enough for the owner to hear it from a different room.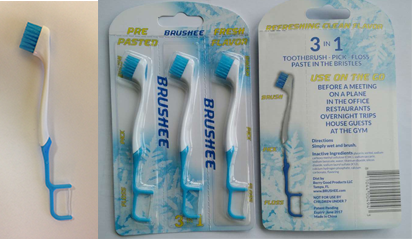 Brushee
3 in 1 – Toothbrush, Pick, and Floss The Brushee is a fantastic, pre-pasted toothbrush for the person on-the-go! Use it before a meeting, on a plane, in the office, at restaurants, during overnight trips, for house guests, and even at the gym! You'll love the fresh, clean flavor! The Brushee is totally portable, and a perfect substitute for a toothbrush!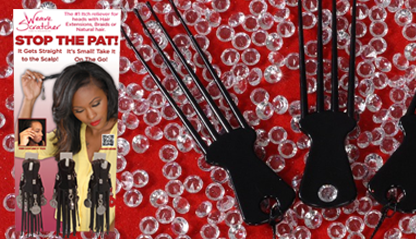 The Weave Scratcher
A Quick Fix to Relieve the Itch! The Weave Scratcher™ is the first of its kind; a hair tool made especially for Women who experience one of the most common factors in wearing hair weaves, braids or wigs…THE ITCHY SCALP!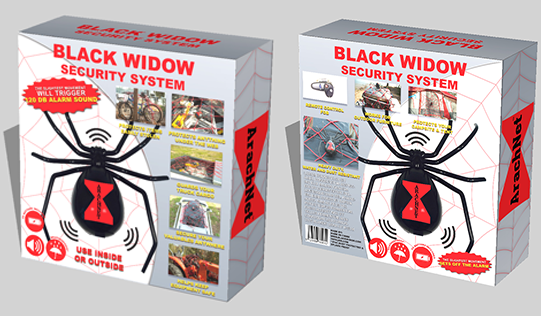 Black Widow Security System
Heavy Duty ARACHNET Technology to Prevent Theft! The ARACHNET will automatically detect tampering and sound an alarm that attracts attention to interrupt any attempted crime in progress. It provides a high level of security and peace of mind for any person hauling valuables that can't be locked away. Works for outdoor furniture, protects your campsite and tent, guards truck cargo, helps keep equipment safe, and so much more!

Club Clean Floor Protector
Our Floor Protector is an Ultra Light Weight, Multi-layered, protective barrier made from high tech materials. It will protect your garage area from messy petrochemicals, battery acid, harsh cleaners, coolant, other fluids and all dirt and grime. A layer of Woven High Tech Micro Fiber is permanently bonded to an Impermeable Membrane. This Micro Fiber provides a high amount of surface area for maximum absorption. The lower layer traps gas, oils, battery acid, cleaners and other harmful fluids. They won't leak through!

Nature's Distributing Shepherd's Hooks
These collapsible Shepherd's Hooks are perfect for any occasion! Picture them at your wedding, anniversary, birthday party, or outdoor event! Give your home, party, garden, patio, or event the boost it needs with these incredible Shepherd's Hooks! Just add your favorite lighting (sold separately) to the handy hook, and you're ready to mesmerize guests of all ages! How are these hooks different? Using the additional extensions, you are able to adjust the height of the hook to your ideal specifications – 15″, 25″, and 35″ for your convenience!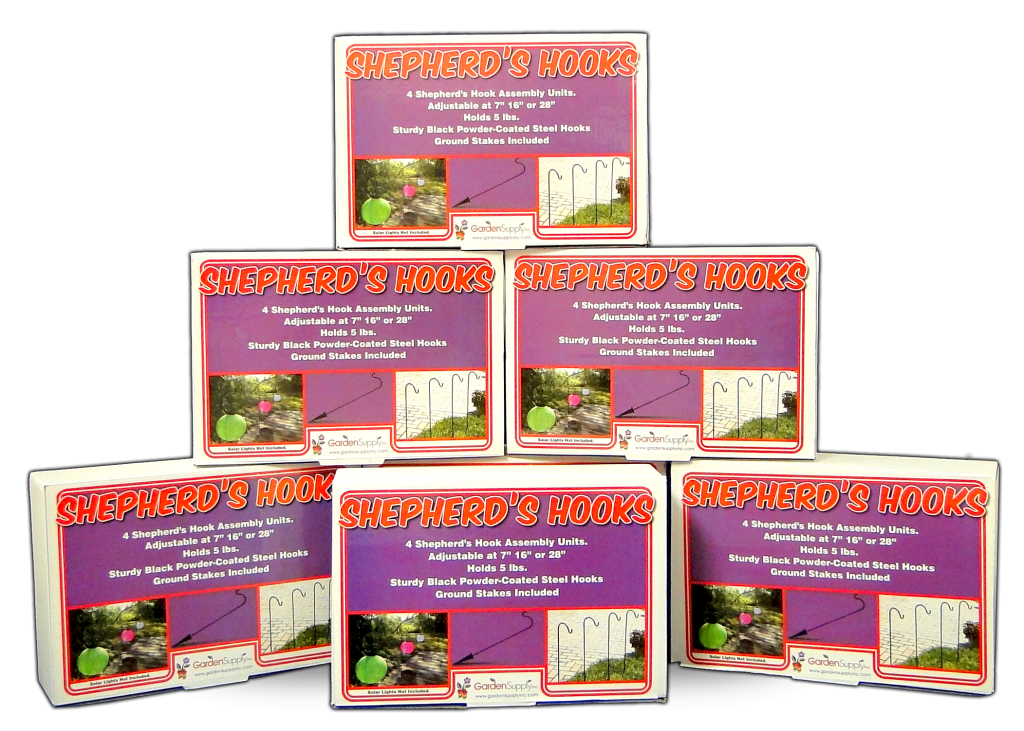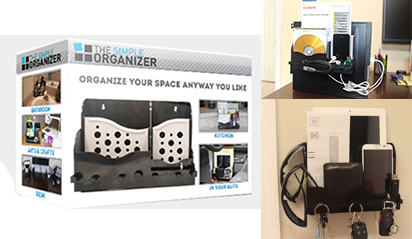 A versatile organizer, perfect for anywhere! The Simple Organizer is a very useful and versatile product for your everyday organizational needs. The Organizer has four removable walls and can adapt to the contents that it holds!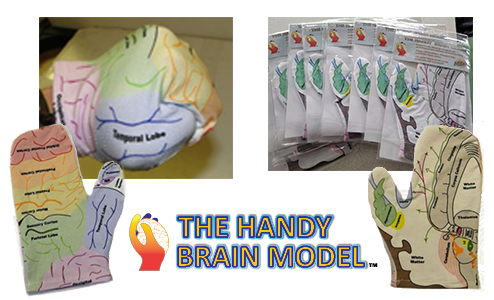 The Handy Brain Model
Visual aid for Doctors, Therapists, and Teachers! An amazing visual aid for doctors, therapists, and teachers that turns 2-dimensional drawings into a 3-dimensional brain hemisphere! No assembly is required! It simulates the soft texture of the brain better than plastic models.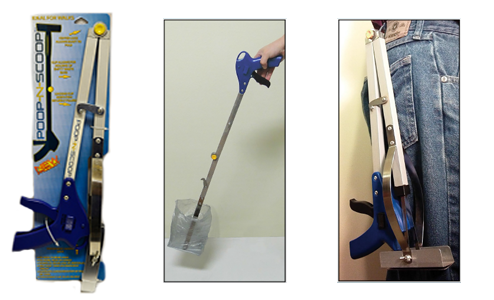 An easy way to pick up pet waste! No need to bend over. No more mess on hands! The Poop-N-Scoop works in grass and sidewalks, helping to keep your environment "green"! Using the convenient clip for your belt, you can eliminate the contamination of parks and/or your yard. PoopNScoop.com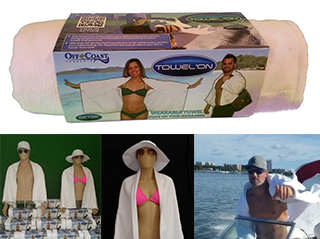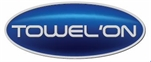 Stylish towel for the beach, pool, or home! These new wearable towels are taking beachwear to a whole new level. The Towel'On is a perfect combination of comfort and style. Great for the beach, the pool, at home and anywhere else you might find the need for a towel or comfortable cover-up. The patented design and built-in sleeves comfortably and discretely secure the towel on the wearer. Our towels can be used in all traditional purposes before being wrapped around shoulders and becoming a casual, hands-free garment.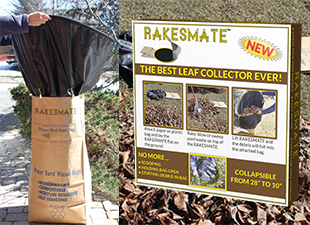 Rakesmate's patented design actually bags the yard waste as it is raked.  Simply attach a paper or plastic yard waste bag to Rakesmate's six stainless steel clips and lay it flat on the ground.  Rake the debris on top of Rakesmate and lift.  The debris will fall into the attached bag. Say goodbye to the repetitive bending, scooping, lifting and stuffing associated with the old way of picking up yard waste.  Rakesmate will cut your yard clean-up workload in half making it the best leaf collector ever!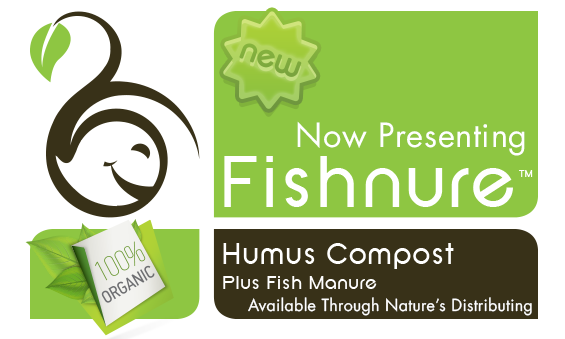 Fishnure is a humus compost made from fish manure and oat straw in a special composting process that adds nutrient capturing inoculants and a small amount of clay.  During the decomposition process the organic matter binds to the microscopic clay particles and creates a soft putty-like substance that is ideal for the maintenance of active microbial life.   The organic matter that is bound to the clay particles will remain in the soil as humus.  The microbial life is essential for plants to receive nutrients.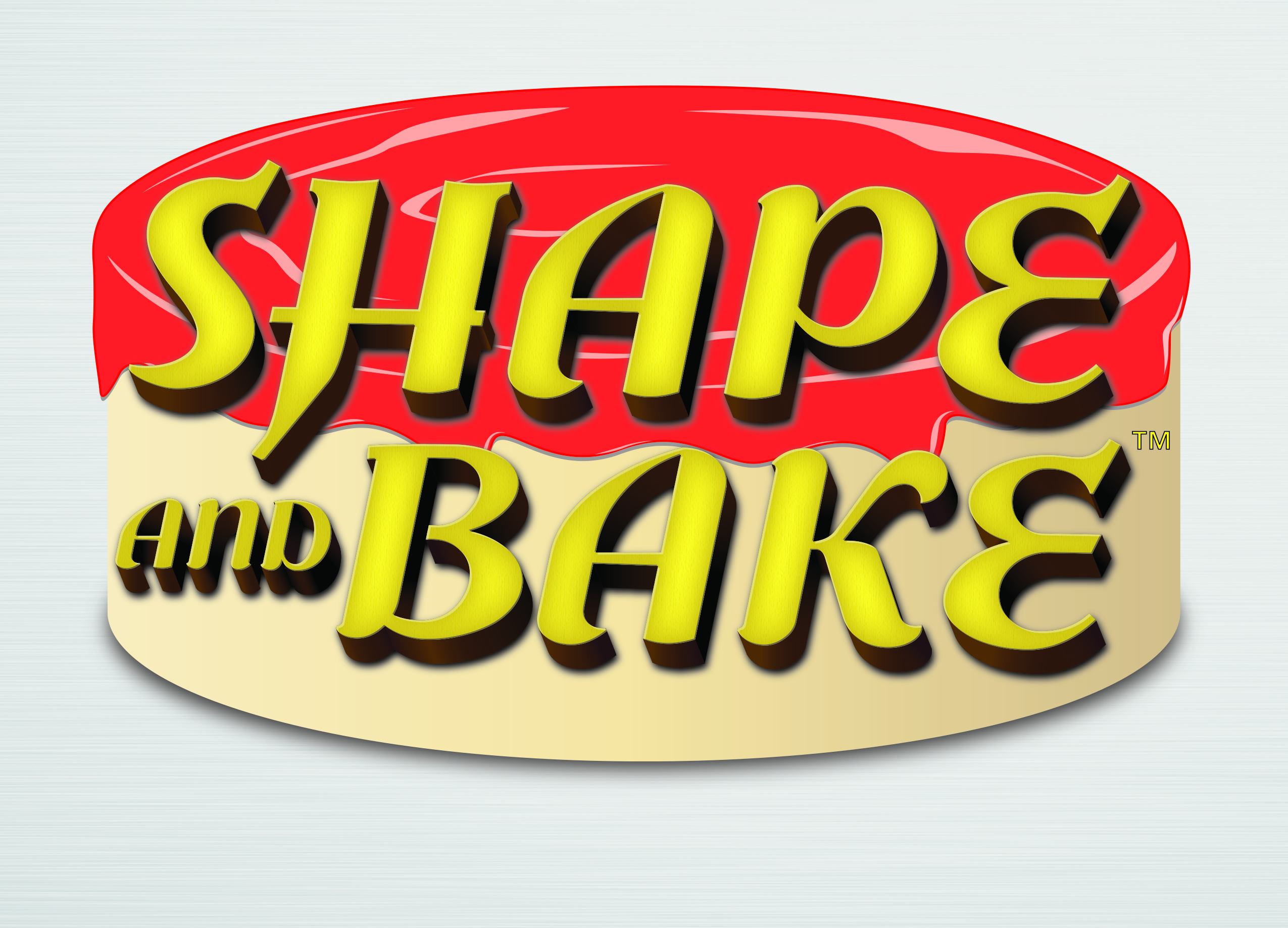 Shape and Bake
Creating custom baking shapes has never been easier. It's as easy as create, connect, bake! Use the Shape and Bake to create many different combinations of designs! This is perfect for families and children with a creative side!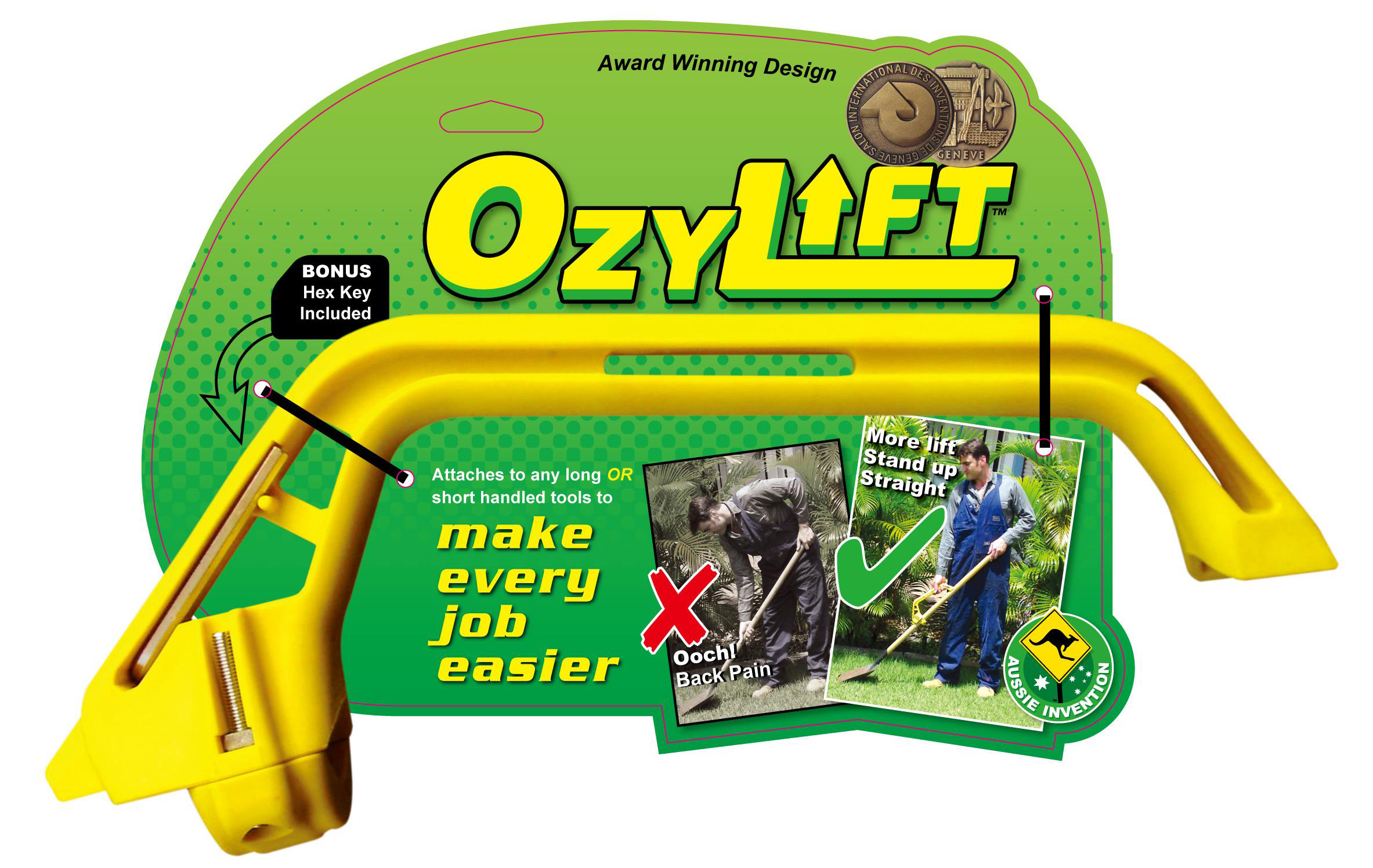 Contact Me Today!
We would be happy to speak with you about the retail possibilities! Feel free to call our Internet Sales Manager, Nathan Daugherty, at 888-373-3876, x.212.
Click Here to Email